Wednesday
1980-07-02
Events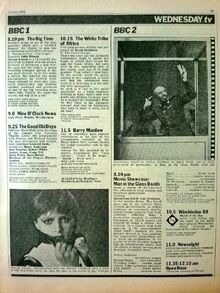 BBC One 8.10 pm The Big Time - 3 : Sheena Easton:

"Another series of six of the programmes which give a talented amateur the chance to join the professional world of her dreams. Reporter John Pitman.

Sheena Easton

is a 19-year-old student from Glasgow, who has always dreamed of becoming a pop star. We gave her the chance. A major recording company agreed, if she was good enough, to let her make a record. We watched her being photographed by Patrick Lichfield, advised by stars like Lulu, Dusty Springfield and Dorothy Squires, packaged and produced by one of the top recording men, Chris Neil. Finally, she made the record, but will it be a hit?" [1]
Media