Thursday
1979-05-03
Events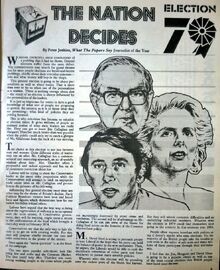 TV: BBC One 10.55 - Decision '79: Callaghan or Thatcher?

The polling booths have closed. The count is under way. The candidates prepare themselves for victory, or defeat. In the Results Studio, David Dimbleby and Robin Day welcome you to a night of political drama as your votes add up to the kind of government you have chosen for the eighties. 

Magazine with Simple Minds and University of Kent in Canterbury Students Union.
Top of the Pops
presented by JS
(15) GONZALEZ – I Haven't Stopped Dancing Yet (and charts)
(28) The Undertones– Jimmy Jimmy
(19) ABBA – Does Your Mother Know (footage from Snowtime Special: Abba In Switzerland 16-4-79)
(3) M – Pop Muzik
(22) THE DICKIES – Banana Splits (Tra La La Song)
(21) PEACHES & HERB – Reunited (danced to by Legs & Co)
(27) The Police– Roxanne
(30) Mike Oldfield – Guilty
(1) ART GARFUNKEL – Bright Eyes (video)
(5) WINGS – Goodnight Tonight (and credits)
Smash Hits
Issue: 3-16 May 1979, Billy Idol cover [1]
Features: Gimmicks, Mickie Most (by D. Hepworth),
Lyrics: Knock On Wood, Pop Muzik, Does Your Mother Know, I'm an Upstart,
Bitz: Billy Idol, Amii Stewart, M, The Damned, Bowie, JJ Burnel (Stranglers),
Singles: Say When, Boys Keep Swingin', Jimmy Jimmy, Does Your Mother Know?
Albums: Second Hand Daylight, Music For Airports, Manifesto.
Live: Roxy Music, XTC, Undertones, Mike Oldfield, The Jam, members, Status Quo
Centrespread: Village People.
Back cover: Squeeze
Ads: -
Community content is available under
CC-BY-SA
unless otherwise noted.