Thursday
1981-07-09
TV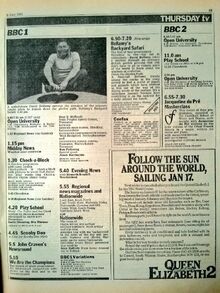 BBC One 6.50 pm Bellamy's Backyard Safari The first of four programmes Shrunken in size - but not in enthusiasm - David Bellamy takes a journey through an ordinary British garden proving that you don't have to go to remote parts of the world to learn about the wonders of evolution. Down the Garden Path 
Top of the Pops
TOTP 900th edition. Celebration time at TOTP although it's the first week at no.1 for The Specials' less than cheery Ghost Town. The group perform the song in the studio for the occasion, although allegedly decide to split up this very day. Full show review here.
Kirsty MacColl – "There's A Guy Works Down The Chip Shop Swears He's Elvis" (16)
The Supremes – "Baby Love" (clip from 07/10/64)
Billy J. Kramer & The Dakotas – "Little Children" (clip from 26/02/64)
The Dave Clark Five – "Bits & Pieces" (clip from 26/02/64)
The Beatles – "I Want To Hold Your Hand" / "Twist & Shout" (live clips)
Randy Crawford – "You Might Need Somebody" (12)
M – "Pop Musik" (montage of clips)
Mary Hopkin / Sandie Shaw – brief interview
Tom Tom Club – "Wordy Rappinghood" (10) (Legs & Co)
Bob Marley & The Wailers – "No Woman No Cry" (9) (live clip)
Alan Clark & Tony Hicks (Hollies) – brief interview
Motorhead – "Motorhead Live" (14) (video)
Bill Wyman – brief interview
The Rolling Stones – "The Last Time" (clip from 04/03/65)
Imagination – "Body Talk" (6)
Adam Ant – brief interview
Smash Hits
Issue: 09 - 22 July 1981, Depeche Mode cover [1]
Features: Depeche Mode, Modern Eon, Imagination, Tom Tom Club, Killing Joke, U2
Bitz: Specials (new single Ghost Town), Eurythmics (first mention, new single), Spandau Ballet with Beggar & Co., Urgh! A Music War film, Pigbag
Fact Is: Buggles, Our Daughter's Wedding, Depeche Mode
Independent Bitz: Associates
Lyrics: Chant No.1, New Life, Pretty in Pink, Wordy Rappinghood, Sat In Your Lap, Visage, For Your Eyes Only,
Singles: Skin Deep, Chant No.1, Visage, Sat In Your Lap,
Albums: -
Live: Duran Duran, Pretenders
Centrespread: Mo-Dettes (Summer Mo-des)
Back cover: Buster Bloodvessel
Ads: Chant No.1 7"/12" single, Visage single, Computer Love / The Model
Community content is available under
CC-BY-SA
unless otherwise noted.