135/365 - 136/366
Birthdays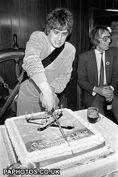 Events
Charts
as announced on this day, with no.1 single (new in bold). Click year for full chart.
Top of the Pops
1969: Pete Murray. The Beatles feat. Billy Preston. get Back.
1975: Noel Edmonds. Tammy Wynette - Stand By Your Man
1980: Dave Lee Travis. Johnny Logan - What's Another Year? 
1986: Mike Smith & Simon Bates. Spitting Image - The Chicken Song.
1998: Jo Whiley. Aqua - Turn Back Time.
Publications
Stamps
click on stamp for issue details
Community content is available under
CC-BY-SA
unless otherwise noted.