Thursday
1983-09-22
TV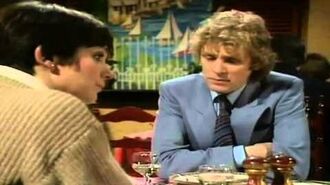 BBC One [1]

7.30 pm Top of the Pops
8.10 pm Give Us A Break. Heaven Sent Micky Noades has problems! No tax or MOT for his car and an old debt has to be repaid. He needs Tina's kid brother from Liverpool like a hole in the head.

9.25 pm Just Good Friends - new sitcom by John Sullivan, starring Paul Nicholas and Jan Francis.

In the summer of 1976 Vince Pinner met Penny Warrender at a Rolling Stones concert in Hyde Park. After a two-year love-hate relationship, they planned to get married, but two days before the wedding Vince hopped on his motorbike and roared off into the sunset, leaving the broken-hearted Penny to pick up the crumbs of the uncut wedding cake. We now meet them five years later.
scans GraemeWood
Top of the Pops
presented by Simon Bates & Mike Read
Howard Jones – New Song (44) - <mark>TOTP debut </mark>

Howard Jones - New Song TOTP.m2ts

David Bowie – Modern Love (8) (video)
Hot Chocolate – Tears On The Telephone (41)
Toyah – Rebel Run (29) (video)
The Alarm – 68 Guns (50)
Nick Heyward – Blue Hat For A Blue Day (45)

Nick heyward - blue hat for a blue day - totp2 - vcd -jeffz-.mpg

Status Quo – Ol' Rag Blues (9) (video)
Soft Cell – Soul Inside (21)

Soft Cell - Soul Inside (TOTP 1983)

Heaven 17 – Crushed By The Wheels Of Industry (17) (video)
Culture Club – Karma Chameleon (1) 
Hot Streak – Body Work (26) (audience dancing/credits)