Thursday
1980-05-29
My age: 16
My location: Bromyard
Events
Tonight's was the last TOTP show before the Musicians Union strike put it off the air for two months until 07 August 1980.
New Smash Hits (Terry Hall cover).
Top of the Pops
Presented by Kid Jensen
(22) ROBERTA FLACK & DONNY HATHAWAY – Back Together Again (and charts)
(52) LIQUID GOLD – Substitute WATCH
(2) HOT CHOCOLATE – No Doubt About It
(44) ELTON JOHN – Little Jeannie WATCH
(17) CROWN HEIGHTS AFFAIR – You Gave Me Love (danced to by Legs & Co)
(13) DON McLEAN – Crying (video)
(37) THIN LIZZY – Chinatown
(6) ROXY MUSIC – Over You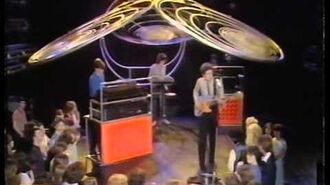 (26) ORCHESTRAL MANOEUVRES IN THE DARK – Messages
(21) JERMAINE JACKSON – Let's Get Serious (video)
(36) STIFF LITTLE FINGERS – Nobody's Hero
(23) MYSTIC MERLIN – Just Can't Give You Up (video)
(NEW) LENA ZAVARONI – Jump Down Jimmy
(1) MASH – Theme From M*A*S*H (Suicide Is Painless) (danced to by Legs & Co)
(9) LIPPS INC – Funky Town (and credits)
Smash Hits
Issue: May 29 - June 11 1980
Cover: Terry Hall (Specials)
Features: 'The Acceptable Face of Synthesisers', OMITD interview and 'Messages' lyrics;
Centrefold. New Musik
Lyrics: Rescue, No Self Control, 'We Are Glass', Messages, Kitchen At Parties, I'm Alive.
Rear cover: The Human League (live colour pic) [1]
Community content is available under
CC-BY-SA
unless otherwise noted.