Friday
1999-04-30
Events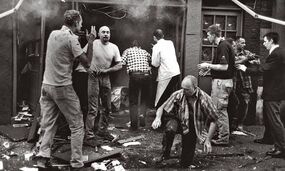 Three people are killed and at least 30 injured in the third nail-bomb attack in London in two weeks. The bomb went off in the Admiral Duncan pub, in Soho, just after 6.30 pm. The bar was packed with drinkers at the start of the bank holiday weekend.[1] The bomb had been the work of neo-nazi activist David Copeland who had targeted ethnic minority and gay and lesbian people with three bombs in London on 17, 24 and 30 April.[2]
TV
BBC Choice [3] 5.00 pm Chill on Choice. The week starts here with 60 minutes of the coolest show around. Including drama from Breakers, plus Top of the Pops.
BBC One [4]

7.30 pm Top of the Pops. The hits from this week's top 40, featuring live performances, videos, a countdown of the top 20, and the bestselling single. Repeated on Saturday
8.30 pm The Builders Concluding the series following the work of various builders.
Top of the Pops
Presenter: Jamie Theakston
(3) Martine Mccutcheon – Perfect Moment
(6) Busta Rhymes – What's It Gonna Be?
(New) S. Club 7 – Bring It All Back (Video)
(14) Faithless – Bring My Family Back
(18) Armand Van Helden Feat. Roland Clark – Flowerz
(1) Westlife – Swear It Again (And Credits)
Community content is available under
CC-BY-SA
unless otherwise noted.