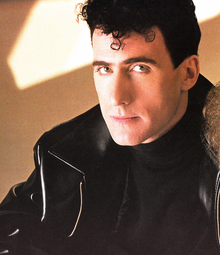 Andy McCluskey (born George Andrew McCluskey, 24 June 1959) is a British vocalist, musician, songwriter, recording artist and record producer noted mainly as the frontman of the new wave group Orchestral Manoeuvres in the Dark (OMD). McCluskey founded the group with school friend Paul Humphreys in 1978 and is the only member to have stayed with the band during its 40 year history. With OMD he has recorded and released fourteen studio albums and sixteen Top 40 hit singles. McCluskey plays guitar, keyboards and percussion although his preferred instrument is the bass guitar.
While also sharing writing credits with Paul Humphreys and other group members, hits such as Enola Gay, Joan of Arc and Maid of Orleans were written by McCluskey alone. During Humphreys' time away from OMD, he also shared writing credits with Karl Bartos (formerly of Kraftwerk) and drummer Stewart Kershaw. With Kershaw he also wrote and produced songs for the female vocal group Atomic Kitten, and had a no.1 hit with the song Whole Again in 2001.
In 2008 McCluskey also wrote The Energy Suite for an audio-visual installation project, performed by The Royal Liverpool Philharmonic Orchestra together with orchestral arrangements of OMD songs in 2009.
See also
Community content is available under
CC-BY-SA
unless otherwise noted.