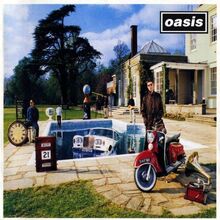 Be Here Now is the title of the third studio album released by British band Oasis. It was released on Thursday 21 August 1997 on Creation records. Part of the album was recorded at Abbey Road Studios in London. It went straight to no.1 in the UK album charts where it stayed for four consecutive weeks, returning to the top spot for another week after being toppled by Ocean Colour Scene's new album Marchin' Already.
The release of the album had been preceded by the single D'You Know What I Mean?, the album's opening track. A second single Stand By Me followed in September, and All Around the World in January 1998. Of the three only Stand By Me failed to reach no.1, kept off the top by Elton John's new recording of Candle in the Wind, released in the wake of the death of Princess Diana of Wales (see Singles section below)
Tracklisting
original CD.
1. D'You Know What I Mean? (7:44)
2. My Big Mouth (5:05)
3. Magic Pie (7:21)
4. Stand by Me (5:58)
5. I Hope, I Think, I Know (4:25)
6. The Girl in the Dirty Shirt (5:50)
7. Fade In-Out (6:54)
8. Don't Go Away (4:51)
9. Be Here Now (5:15)
10. All Around the World (9:22)
11. It's Gettin' Better (Man!!) (7:02)
12. All Around the World (reprise) (2:08)
- the vinyl release spread the tracks over 2 LPs, with three tracks per side.
For 2016 deluxe re-release, see link here.
Singles
UK only
D'You Know What I Mean?

UK rel. date 07 July 1997, UK chart peak 01

D'You Know What I Mean? / Stay Young / Angel Child (demo) / "Heroes"

Stand By Me

UK rel. date 22 September 1997, UK chart peak 02

Stand By Me / (I Got) The Fever / My Sister Lover / Going Nowhere

All Around the World

UK rel. date 12 January 1998, UK chart peak 01

All Around the World / The Fame / Flashbax / Street Fighting Man