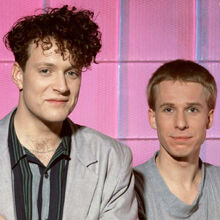 Blancmange are a British synthpop group who became famous with a number of hit singles from 1982 to 1984. Among their best known songs are 'Living on the Ceiling' and a cover version of the [[1]] song 'The Day Before You Came'. The duo of Neil Arthur and Stephen Lascombe released three albums between 1982 and 1985 before splitting up. Arthur has since returned to the music scene under the Blancmange name and continues to record and play live.
In 2017 the back catalogue of their first three albums Happy Families (1982), Mange Tout (1984) and believe You Me (1985) we re-issued with accompanying material relative to each period as a box set entitled The Blanc Tapes and separately in 3 Cd and media book packages. A brand new album Unfurnished Rooms is set for September 2017 release.
Significant dates
30 January 1981

: an early version of the instrumental Sad Day is featured and released on the

Some Bizzare

compilation album, which also features debuts by Soft Cell, Depeche Mode and The The.

13 February 1982

: first and only John Peel session recorded. First broadcast on 23 February 1982.
22 July 1982: Smash Hits carries ad for new single Feel Me and July tour dates. The single will reach no.46 in early August.
04 November 1982: first TOTP appearance with Living on the Ceiling when the single is at no.37. It will move up to no.19 the following week. The single will be their biggest hit, reaching no.7 on 23 November and remaining at the same position for three consecutive weeks.
21 December 1982: Feel Me and Living On the Ceiling are at nos. 35 and 34 respectively in John Peel's 1982 Festive Fifty.

01 May 1984

: Don't Tell Me becomes Blancmange's second most successful single when it reaches no.8 in the UK.
10 May 1984: Mange Tout gets 9 out of 10 in Smash Hits album review.
24 July 1984: their cover version of The Day Before You Came fares better than Abba's original when it reaches no.22 although the single will be their last Top 40 hit in the UK.

June 1986

: the split is announced.
Scrapbook