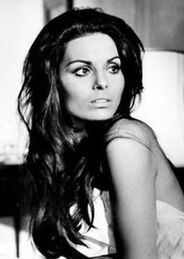 Daliah Lavi (Daliah Lewinbuk, b.12 October 1942 d.03 May 2017) was an Israeli singer and actress. She enjoyed some popular success firstly in film roles during most of the 1960s turning to singing in the early 1970s.
As a singer she occasionally starred in UK television light entertainment shows such as those hosted by Cliff Richard, Rolf Harris and Harry Secombe[1] , although enjoyed greater success in German speaking countries as a Schlagsinger.
Later in life she moved to the US where she died in 2017 from unknown causes.
External links