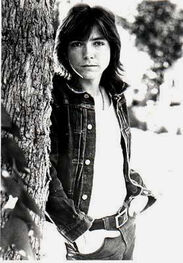 David Cassidy (b. New York, 1950 - d. Fort Lauderdale 21 November 2017) was an American actor, singer, musician and songwriter. he first became famous in his role of Keith Partridge, a member of the fictitious Partridge Family, who had their own musical sitcom. Cassidy also embarked on a solo career scoring several hits in both the UK and the USA and with his good looks and charming manner became one of the biggest 'teen-idols' of the seventies.
After his successful early seventies period, Cassidy made several 'comebacks' the most successful being with the single The Last Kiss in 1985.
Hit singles
with The Partridge Family:
1971
1972
It's One of Those Nights (11)
Breaking Up is Hard To Do (03)
1973
Looking Through the Eyes of Love (09)
Walking in the Rain (10)
as solo artist
1972
Could It Be Forever / Cherish (02)
How Can I Be Sure (01)
Rock Me Baby (11)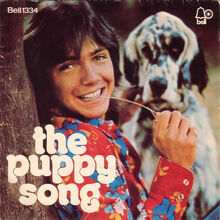 1973
I'm a Clown / Some Kind of Summer (03)
Daydreamer / Puppy Song (01)
1974
If I Didn't Care (09)
Please Please Me (16)
1975
I Write the Songs / Get It Up For Love (11)
Darlin' (16)
1985
Top of the Pops appearances
Almost all Cassidy's hits both as a solo artist and with the Partridge Family were only featured on TOTP as videos or as background music to credits, crowd dancing etc. He made his first and only studio appearance with comeback hit The Last Kiss on 07 March 1985.
External links
Community content is available under
CC-BY-SA
unless otherwise noted.