Depeche Mode are a new wave / electronic music group from Basildon, UK. Generally considered pioneers of the synth-pop / electro-pop genre, their music has developed to include elements of rock, blues and even gospel. The group have over the years achieved major success on a worldwide scale. Their latest album Spirit, was released in March 2017.
History
1980-1982
Formed in 1980, they released their first single Dreaming of Me on the Mute label in February 1981, gaining mainstream success with the follow-up New Life later in the year. The group was originally made up of friends Vince Clarke, Martin Gore, Dave Gahan and Andrew Fletcher although Clarke, their principal songwriter, left the group at the end of 1981 after the release of their debut album
Speak and Spell
. Martin Gore took over main songwriting duties for the follow up album
A Broken Frame
and new fourth member Alan Wilder was soon recruited for live work, eventually becoming a full group member.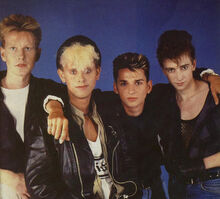 1983-1986
Depeche Mode's major critical and commercial breakthrough came with the 1983 album Construction Time Again, followed a year later by Some Great Reward and Black Celebration in 1986. Singles such as Everything Counts, People Are People and Stripped had gained the group success throughout Europe, including the Eastern block which had particularly taken to their industrial style, achieved through the use of electronic sampling combined with strong melodies and even social comment in their songs.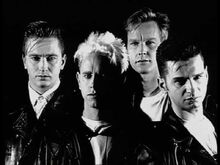 1987-1990
The group also met with favour in the US culminating in the Music For The Masses album in 1987, as testified by the 101 live album recorded during the 101st and final concert of their tour at Pasadena Rose Bowl, California in June 1988. World domination was consolidated by the Violator album, released in 1990.
Significant dates
External links
Connections
Been a fan of the group after first hearing Dreaming of Me on the radio in early 1981.
Seen the group perform live twice.
=== ===
Community content is available under
CC-BY-SA
unless otherwise noted.