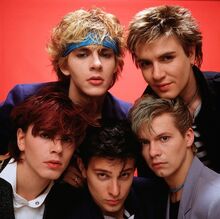 Duran Duran are a pop group hailing from Birmingham, UK, active since 1978. The group first became famous in late 1980 and early 1981 as one of the forerunners of the "new romantic" fashion and music movement evolving from 'futurist' night club scenes of the time. Despite line-up changes they have gone on to become one of the longest-running British pop groups of all time and are still signed to Warner Bros. Records.
Current band members are Simon Le Bon (vocals), Nick Rhodes (keyboards), John Taylor (bass) and Roger Taylor (drums). Rhodes and John Taylor formed the orginal band, together with vocalist Stephen Duffy, joined soon after by Roger Taylor. Le Bon replaced Duffy (and other short-lived vocalists) in 1980 and guitarist Andy Taylor (none of the three 'Taylors' were related) was also taken on board to complete the 'classic' line-up.
Duran Duran, who take their name from character in the 1968 Barbarella sci-fi movie, became one of the most successful acts of the 1980s both in the UK and worldwide, and were a spearhead of the 'second British invasion' of the US from mid-1982, fuelled also by MTV and the video age. Their 'golden age' was relatively short, lasting until 1985, after which Andy and Roger left the band, further also to various spin-off muscial projects (namely Arcadia and The Power Station) had also come to an end.
After a brief hiatus, the trio of Le Bon, Rhodes and John Taylor made a successful comeback as Duran Duran in 1986 culminating in the release of their first hits compilation Decade in November 1989.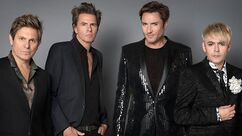 The group continued to record in the 1990s, with the addition of Warren Cuccurullo on guitar (he had been replacing Andy Taylor for live and studio work since 1986) and as song-writing partner. They returned to their classic five-piece line-up again in 2001 and enjoyed something of a renaissance especially in live performances with spectacular concerts held around the world. Andy Taylor left the band for a second time in 2006, leaving them currently as a four-piece.
Duran Duran have released 14 studio albums, and have had 30 UK Top 40 singles, including two no.1s.
Discography
selected UK releases
Year
Single
Peak pos. (UK)
Weeks in Top 40
Album
1981
Planet Earth
12
7

Duran Duran

(1981)
Careless Memories
37
4
Girls On Film
05
9
My Own Way
14
9
Rio (1982)
1982
Hungry Like The Wolf
5
10
Save A Prayer
2
8
Rio
9
10
1983
Is There Something I Should Know?
1 [1]
7
no album
Union of the Snake
3
5
Seven and the Ragged Tiger (1983) [2]
1984
New Moon on Monday
9
5
The Reflex [3]
1 [4]
11
The Wild Boys
2
12
Arena (1984)
1985
View To A Kill
2 [5]
11
no album (movie OST only)
TV appearances 
UK only (unless othewise stated)
Top of the Pops
Other TV
Scrapbook
various sources
See also
External links