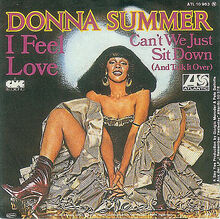 I Feel Love is the title of a song written by Giorgio Moroder and Pete Bellotte with lyrics by Donna Summer, originally included on Summer's album I Remember Yesterday and successively released as a single.
The track has become to become recognised as a breakthrough recording in the 'hi-energy' electronic dance music genre, and a prime example of Giorgio Moroder's production style, with heavy use of Moog synthesisers and sequencers.
Single release
The song was released as a single in the UK in early July 1977 and on 19 July 1977 reached the no.1 position where it stayed for four weeks (replaced by Brotherhood of Man - Angelo). The parent album I Remember Yesterday also peaked at no.3 in late July. In the US the single peaked at no.6 on the Billboard Hot 100 chart the week of November 12 1977 and had already reached no.9 on the Soul Singles Chart in October.
Extended version
The track is also known for being one of the first to receive an 'extended version' treatment, issued on 12" vinyl, a format also pioneered by Moroder. The extended version clocked in at over eight minutes and received limited release, usually only as a 'promo' disc.
Remixes
The 1982 and 1995 remixes of the song peaked at no. 21 and no.8 on the UK chart respectively, and sales of these physical singles totalled 956,400. According to the Official Charts Company, together with digital sales, I Feel Love has sold 1.07 million copies in Britain as of June 2013. [wikipedia]
Tracklisting
original UK 7" GTO 100 (same for US, European and other territories)
A. I Feel Love (5:53)
B. Can't We Just Sit Down (And Talk It Over) (3:56)
12" (US and other territories, usually single-sided)
A. I Feel Love (8:15)
- for 1977 variations and further issues and remixes see Discogs.com.
Cover versions
Among the notable cover versions is one recorded by synth-pop group Bronski Beat with guest vocalist Marc Almond (Soft Cell), released as a single in 1985. This version was actually a medley combined with another Moroder/Bellotte/Summer song Love To Love You Baby, and Johnny Remember Me, originally a 1961 UK no.1 hit single for John Leyton, produced by Joe Meek. [1] Reviewing the single in Smash Hits, Peter Martin wrote, "I thought this might be brilliant. It's not".[2]
Media
Community content is available under
CC-BY-SA
unless otherwise noted.