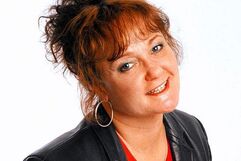 Janice Long (née Chegwin, b. 05 April 1955) is a British radio and occasional TV presenter. She made her BBC Radio 1 debut with her own Saturday evening show on 04 December 1982 [1] and her Top of the Pops debut two days earlier on 02 December, when she was introduced as the newcomer. At the time, together with Anne Nightingale she was one of only two female DJs on Radio 1. Hailing from Liverpool, Long had an ear for more alternative music, which she often featured on her programme, and struck up a solid working relationship and friendship with John Peel.
Long was brother to presenter and TV personality Keith Chegwin who died in 2017.
BBC Radio and TV
Long began her broadcasting career at BBC Radio Merseyside in 1979, on the children's programme Junior Spin. In 1981 she began the Streetlife programme concentrating on the local music scene, as well as producing and presenting other programmes such as And the Show Goes On, a documentary to celebrate the 70th anniversary of Liverpool Playhouse (see right).
On moving to BBC Radio 1 in late 1982, Long hosted the Saturday early evening (7.30) show, later moving on to a similar time slot on weekdays between 1984 and 1987, initially replacing Kid Jensen. Like Peel and Jensen, she often featured studio sessions by up and coming artists as well as by established bands on her shows, mixing in chat and current affairs. As part of the regular Radio 1 roster she also did the Radio 1 Roadshow, occasional holiday stand-ins and Top of the Pops presenter duties, often with Peel. She also presented documentary type radio series such as 'Who's that Girl', which focused on female artists in the pop and rock industry. She left to have her first child in 1987.
From 1989 she presented shows on other radio stations such as BBC London, BBC Radio 5 and BBC World Service. In 1995 she returned to Liverpool and set up her own radio station CrashFM.
In September 1999 she returned to the BBC, presenting her own show on Radio 2 on weekday nights at midnight, [2] before moving onto the afternoon Saturday Music Show from 08 January 2000 as well as the weekday afternoon slot in February and March, and returning again to the weekdays at midnight slot from 04 April for a long-running three-hour live show, often featuring live music sessions. The show was cut to two hours from January 2012, and then suddenly taken off the air at the beginning of 2017 when it was decided that Radio 2 would no longer do any live broadcasting after midnight. Long gave a teary farewell on her final show broadcast on 26 January 2017.[3]
Long had also presented Dream Ticket on BBC6 Music from 11 March 2002 – 01 July 2004.[4] and a Saturday morning show on BBC WM until July 2010.[5]
On 22 May 2017 she began an early evening show on BBC Wales between 7.00 – 10.00 pm, Monday to Thursday. The show features live sessions and also provides a platform for Welsh artists.
Notable radio and TV shows
BBC Radio Merseyside: Junior Spin (1979), Streetlife (1981), And The Show Goes On (06 December 1981).
Stopwatch (BBC One, 7-part sport series for young people starting 02 September 1981)
Janice Long - regular Saturday R1 show at 7.30 pm starting 04 December 1982 until 22 September 1984.

some weekday 4.30 pm stand-ins during 1983 (incl. Boxing Day) and 1984.
31 December 1983 Janice Long Liverpool Special.
03 September 1984 begins weekdays (Mon-Thur) 7.00 pm slot (continuing with Select-a-Disc on Fridays and 7.30 pm Saturday show until end of month). Continued until 30 December 1987.

Platform 9 - weekly show from Monday 18 April 1983 until 26 September 1983.
Select-a-Disc - Friday afternoons 4.30 pm from 10 June 1983 to 28 September 1983.
Radio 1 Roadshow with Gary Davies from Cranfield Model Expo 84 (23 April 1984)
Radio 1 Roadshow (N Wales, NW England), week beginning 16 July 1984
Who's That Girl? (R1, starting 28 April 1984) a new series of six programmes, in which Long interviews female recording artists about their life and career (Siouxsie Sioux, Joan Armatrading, Alannah Currie, Chrissie Hynde..)
| | | |
| --- | --- | --- |
| | | |
Radio 1 Boat Show - In Search of Wigan Pier (R1, 1984) with with Simon Bates. Five weekday programmes from 09 July 1984.
ORS 85 (BBC One, from 11 January 1985) - Janice Long introduces her Radio 1 featured session band, eg. Strawberry Switchblade, Getting The Fear, Maxi Priest.[6]
Jammin '85 in Battersea Park. (R1 30 June 1985) with Bruno Brookes.[7]
Live Aid For Africa. (BBC1, R1 13 July 1985)

Live Aid 1985 Janice Long - Status Quo Interview

Radiofun 85 (R1 11 October 1985) Janice Long and John Peel at the Ritz in Manchester.
Listen To What The Man Says (R1, 22 December 1985). Paul McCartney : A Man and His Music. Janice Long talks to Paul about his life, Lennon, the press, his hopes, his fears and a typical McCartney Christmas.
Superdance 85 (R1 27 December 1985) A Disco Special with Gary Davies.[8]
Janice Long and John Peel's New Year's Eve Party. (R1, 31 December 1985) [9]
The Best Kept Secret (R1, 05 March 1986) JL reports on child sexual abuse.[10]
Singled Out (R1, Fridays 5.45 pm, from 09 May 1986) Jl and guests a critical ear on some of the week's new single releases.
Radio 1 Roadshow (R1, week beginning 07 July 1986)
Mike Smith's Royal Breakfast.(R1, 23 July 1986). Sharing the atmosphere and bird's-eye view are Adrian John and JL.
Rock Around The Clock (BBC 2, 20 September 1986). BBC2's annual all-nighter live from Studio 1, Television Centre, and the Town and Country Club, Kentish Town.
Radio 1's Birthday Honours List (R1, 30 September 1986) JL and Mike Smith at The Roof Gardens, Kensington, London.[11]
Janice and John in Japan (R1, 4 shows during the week commencing 20 October 1986) with John Peel  direct from Tokyo on the music and lifestyles of young people in Japan.
Play Safe - AIDs and You (R1, 14 December 1986).[12]
Open Air (BBC 1 weekly from 29 December 1986). your chance to talk back to the programme makers. With Bob Wellings and Eamonn Holmes.
From Russia With Long (R1, 16 July 1987) from the studios of Gostelradio in Moscow, where Janice convenes the first Radio 1 Youth Summit. [13]
The Change The World Party (BBC 2, 06 September 1987). to mark the global launch of Sport Aid 88 [14]
Wogan (BBC 1, 28 September 1987). Celebrating 20 years of R1. A live guided tour around Radio 1 as it's happening with Mike Smith , Bruno Brookes and JL.
Janice Long - final evening show. (R1 30 December 1987)
Substance.(R1: 27 February 1988, 05 March 1988) 1: I Remember When We Were Young. Joy Division from An Ideal for Living to Love Will Tear Us Apart. 2: Now that We've Grown Up Together New Order from Ceremony to True Faith.
21 Years of Radio 1: The New Wave Band - 1973-88 (01 October 1988, archive recordings).
90's -2000s
Scrapbook
External links
Community content is available under
CC-BY-SA
unless otherwise noted.