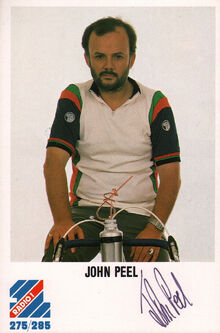 John Peel (b. John Robert Parker Ravenscroft, 30 August 1939) was a British radio presenter, DJ and music journalist famous for his long-running show on BBC Radio One. He is particularly noted for his switch from more traditional rock to punk and post-punk music after 1977 and in particular for championing post-punk and new wave bands such as Joy Division, Siouxsie & the Banshees, The Undertones, New Order and countless more. Prior to that he had also been an early supporter of major artists such as David Bowie, Queen, Mike Oldfield and Marc Bolan.
Ever the anti-conformist, he became one of the most senior and respected DJs on radio. His shows were noted for the eclectic mix of styles and also for the regular 'sessions' in which bands and artists were invited to BBC studios to showcase their material with 'live in the studio' recordings of usually three to four tracks.
He also became a regular presenter of Top of the Pops between 1982 and 1986.
Peel continued to broadcast up until his death. He died from heart failure whilst on a working holiday in Peru on 25 October 2004.
External links
Community content is available under
CC-BY-SA
unless otherwise noted.