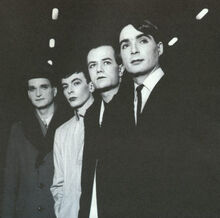 Kraftwerk are an electronic music group from Düsseldorf, Germany active since 1970.
They are generally considered as innovators and pioneers of electronic music, they were among the first successful acts to bring the genre into pop-culture and one of the biggest influences on the British 'new romantic' and electro-pop groups of the late 1970s and early 1980s.
They were initially part of Germany's so-called 'krautrock' music scene before breaking away to become fully electronic. Kraftwerk have continued to be one of rock's most enigmatic groups, giving few interviews and very little publicity. The location of their recording studios, known as Kling Klang, was kept a well-guarded secret for many years.
Kraftwerk were also one of the first groups to bring electronic music to live audiences, and continue to innovate with their 3-D shows which continue to the present day.
Formation
Scrapbook
External links
Community content is available under
CC-BY-SA
unless otherwise noted.