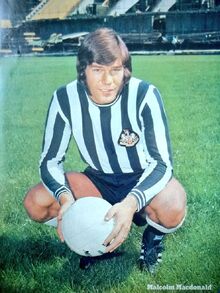 Malcolm Macdonald (Malcolm Ian Macdonald, b. 07 January 1950) is an English former professional footballer, manager and media figure.
He was born in Fulham, for whom he played in 1968–1969, although had his most successful and prolific years as a professional footballer at Luton Town (1969–1971) then Newcastle United (1971–1976) where he earned his name as "Supermac", scoring a hat trick against Liverpool FC in his debut match on 21 August 1971 [1]. He left Newcastle for Arsenal in 1976, for a fee of £333,333.34. He was the club's top scorer for two consecutive seasons and won the Golden Boot of 1977. After a knee injury in 1978, he spent a few months playing in Sweden in 1979 before retiring. MacDonald has since said the pain from his long-standing knee injury led to an increasing dependence on alcohol, although he eventually gave up drinking in 1997.
In total he played 14 times for England scoring six goals, five of which in a single match against Cyprus on 16 April 1975 [2].
He returned to Fulham as manager from 1980-1984, and less successfully to Huddersfield Town in 1987. he is currently President of North Shields F.C..
Community content is available under
CC-BY-SA
unless otherwise noted.