Chronology of the group Orchestral Manoeuvres in the Dark.
Part I (1978-1988)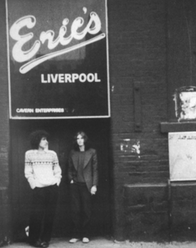 1978
28 September 1978 - First live performance of Orchestral Manoeuvres in the Dark.
12 October 1978: first (advertised) gig at Eric's Club in Liverpool supporting John Dowie.
20 October 1978: first gig at The Factory, Manchester. Support to Joy Division and Cabaret Voltaire. Tracks included on the 'DEP2' EP released free with early copies of Organisation were recorded here.
1979
1980
01 February 1980: New single Red Frame/White Light is released in both 7" and 12" formats.
15 February 1980: The band begin an extensive tour of the UK starting at Eric's Club in Liverpool. Touring will continue throughout February, March and April moving on to Europe and the US in late May/early June.
21 February 1980: RF/WL lyrics in Smash Hits
22 February 1980: debut album Orchestral Manoeuvres in the Dark released.[3]
06 March 1980: album reviewed by Red Starr in Smash Hits (7.5/10)
14 April 1980: Second session for John Peel recorded, broadcast on 21 April 1980. New tracks Enola Gay and Motion and Heart are heard for the first time.
15 April 1980: live performance of Messages and Dancing on OGWT.
02 May 1980: re-recorded version of album track Messages released as a single
08 May 1980: first appearance on TOTP with Messages at no. 53
29 May 1980: Smash Hits feature 'The Acceptable Face of Synthesisers' and second performance of Messages on TOTP.
28 July 1980: Live gig at Nottingham Playhouse, filmed for the ITV's Rockstage programme. The performance will eventually be released in 2015 on CD and DVD as part of the 'Access All Areas' series.
19 September 1980: live performance of Enola Gay at Portsmouth Guildhall, UK, included on Urgh! A Music War compilation album, released in 1981.[4]
26 September 1980: new single Enola Gay b/w Annex released on Dindisc.
29 September 1980: Third John Peel session recorded, Peel plays Enola Gay single on his show.
06 October 1980: Third Peel session first broadcast, repeated 03 November 1980.
09 October 1980: Enola Gay performed for the first time on TOTP when the single is at no. 35 in the charts.
23 October 1980: repeat studio perfomance of Enola Gay on TOTP.
24 October 1980: Organisation album released.
28 October 1980: Enola Gay reached peak position of no.8 (for the first time).
01 November 1980: Organisation tour begins.
11 November 1980: After falling back one place, Enola Gay goes back up to no.8 in the UK charts.
24 November 1980: Live date in Monmartre, Paris.
1981
1981-01 / 04: the group continue to tour the USA, Canada and France. Setlists are a mixture of the first two albums although a new track 'She's Leaving' is also performed.
21 February 1981: BBC Radio One broadcast a short set recorded live at the Paris Theatre on 04 February 1981. Some of the group's equipment was stolen before the gig.
19 March 1981: Smash Hits cover photo. The issue[5] carried a free flexi-disc featuring a live version of Pretending To See The Future for which the lyrics are also printed.[6]
06 August 1981: Smash Hits carries the story that the group have been recording demos for their third album expected in October, and that a new single Souvenir 'should be' out on August 14. It is also reported that Enola Gay is "a monster in Italy as is the Organisation LP in France". [7]
25 August 1981: new single Souvenir enters the UK charts at no. 41, going up to no. 23 the following week.
03 September 1981: OMD perform Souvenir on Top of the Pops for the first time. The group line-up features Paul Humphreys singing (miming) lead vocals for the first time on the show, plus new member Mike Douglas (playing xylophone!) as well as Martin Cooper (sax), Malcolm Holmes (drums) and Andy McCluskey on double bass.
03 September 1981: Smash Hits interview and feature. A group photo features the McCluskey/Hunphreys/Holmes/Douglas "new line-up". The Souvenir single is reviewed as "ethereal but rather hollow".
17 September 1981: Souvenir is featured again on TOTP although in a repeat of the 1981-09-03 performance. The single is at its peak position of no.3. Smash Hits also give details of a new tour starting in November "assuming they've completed the new LP they're currently labouring over". It is also reported that Martin Cooper has re-joined the band and that Mike Douglas has formed his own band Godot. (Douglas will be playing live with The Human League within the year).
15 October 1981: new single Joan of Arc (released 09 October 1981?) advertised in Smash Hits as being "from the forthcoming Dindisc album Architecture & Morality".[8]
20 October 1981: Joan of Arc enters UK charts at no.36.
29 October 1981: OMD appear on TOTP to perform Joan of Arc, now at no.21.
29 October 1981. Smash Hits Architecture & Morality album review (9/10), advertisement and competition to win LPs.
07 November 1981: Architecture & Morality tour begins at Lancaster University.
08 November 1981: (possibly 06 November) Architecture & Morality album released.
12 November 1981: Repeat showing of TOTP perfomance of Joan of Arc. The single is at its peak position of no.5 and will remain there for one more week.
14 November 1981: Architecture & Morality enters the UK album charts at no. 5, climbing to no. 3 a week later (kept off the top spot by Adam & the Ants and Queen).
04 December 1981: concert at Theatre Royal, Drury Lane, London filmed and recorded and later released on VHS.
25 December 1981: New performance of Souvenir on TOTP Christmas Day show featuring the "classic" four-piece line-up for the first time.
1986
Part II (1991-1998)
1991
1994
15 January 1994 - last OMD live performance (Pretoria, South Africa) for the next 22 years.
Part III (2005- )
2005
30 May 2005: McCluskey & Humphreys record German TV Show The Ultimate Chartshow and decide to get back together again. (source)
2011
2019
Community content is available under
CC-BY-SA
unless otherwise noted.