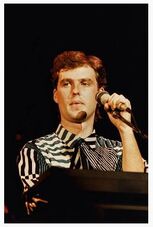 Paul Humphreys (Paul David Humphreys b. 27 February 1960) is a British musician, songwriter, vocalist and recording artist and producer best known as one of the two founding members of the British group Orchestral Manoeuvres in the Dark.
Although principally a keyboard player and synthesiser and drum machine programmer for the band he has also occasionally sung lead vocals on OMD hits such as Souvenir, Secret, (Forever) Live and Die, What Have We Done and various other albums tracks.
Early OMD tracks, such as the 1979 indie hit Electricity, were famously made on primitive electronic equipment built by Humphreys, often writing and rehearsing with friend Andy McCluskey at his home on the Wirral, Merseyside. They made their first performance as Orchestral Manoeuvres in the Dark at Eric's Club in Liverpool in October 1978. An initial release of Electricity on Factory records and further live performances in 1979 led to interest from Virgin subsidiary DinDisc who released the group's eponymous debut album in February 1980. Songwriting credits were divided between the two group members although the second album Organisation saw examples of each member writing their own compositions, and Humphreys' first solo work Promise. Their comeback single Souvenir, issued in August 1981, was co-written by Humphreys and group collaborator Martin Cooper, without McCluskey, and reached no.2 in the UK.
Towards the end of the 1980s he split up with his long-standing musical partner and friend Andy McCluskey, effectively leaving OMD. In the meantime he continued to produce music with new project The Listening Pool (established with other defecting band members) and later with Onetwo, a duo with partner Caludia Bruecken, formerly of Propaganda.
Humphreys reestablished OMD in 2006 with McCluskey and the pair have since continued to tour and produce new albums. They recently celebrated their 40th anniversary with a comprehensive compilation Souvenir, and a sell-out tour of the UK and several European countries.
Community content is available under
CC-BY-SA
unless otherwise noted.