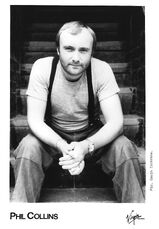 Phil Collins (b. 1951-01-30) is a British drummer, vocalist, musician and songwriter. He first became famous as a member of the group Genesis where he was initially just the drummer but later took over vocalist duties when Peter Gabriel left the group.
Collins also embarked on a successful solo career in 1981, although has always remained a member of Genesis.
Significant dates
Connections
I first became aware of Collins through the Genesis album And Then There Were Three then Duke, and was a big supporter of his debut single In the Air Tonight. I had a copy of it on cassette and listened to it secretly in the language lab. His first two albums are in my Top 50 although have never cared for anything beyond that. I probably first heard The Beatles' song Tomorrow Never Knows via Collins cover version on his first album.
Record collection
External links