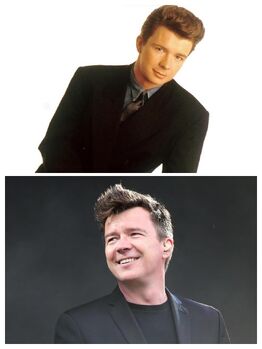 Rick Astley (Richard Paul Astley, b. 06 February 1966) is a British singer songwriter and recording artist. He first became famous with his distinctive voice in 1987 with his debut single Never Gonna Give You Up which went to no.1 in the UK and won the 1988 Brit Award for Best British Single.
Astley scored a string of Top 10 singles throughout 1987, 1988 and into 1989 (the first male solo artist to see his first eight singles reach the UK Top Ten), together with two Top 10 albums. His more successful material was produced by the Stock, Aitken & Waterman (SAW) team with which Astley is largely associated.
A change in Astley's musical direction and public taste in the early 90s meant that popularity and sales declined. He retired form the music scene in 1993 although made a comeback in 2007 when "rickrolling" became a viral internet phenomenon. He won the MTV Europe Music award for Best Act Ever in 2008. His 2016 album 50 became his second no.1 album in the UK almost thirty years after the first.[1]
Discography
UK only (peak chart positions in brackets, top 40 only)
Year
Singles
Albums
1987
Never Gonna Give You Up (1)
Whenever You Need Somebody (01)
Whenever You need Somebody (3)
When I Fall In Love (2)
1988
Together Forever (2)
She Wants To Dance With Me (2)
Hold Me In Your Arms (08)
Take Me to Your Heart (8)
1989
Hold Me In Your Arms (10)
1991
Cry For Help (7)
Free (9)
1993
Hopelessly (33)
Body & Soul (-)
2002
Greatest Hits (16)
2005
Portrait (26)
2008
Ultimate Collection (17)
2016
50 (1)
source Official Charts Archive
TV appearances
Top of the Pops
Others
Radio
Scrapbook
External links
Community content is available under
CC-BY-SA
unless otherwise noted.