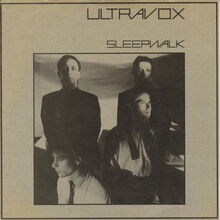 Sleepwalk is the title of a song written and recorded by the British band Ultravox. It was the group's first release by the new line-up with Midge Ure as lead vocalist and 'frontman'. It was produced by the band and German Conny Plank, who had also worked on Ultravox's previous album Systems of Romance while John Foxx was still the frontman.
Previewed as part of the new line-up's live set on their US tour in late 1979[1], the song was released as a single on 16 June 1980 ahead of the album Vienna, released shortly afterwards. Although it was slow to chart, the single became the group's first commercial success, reaching no.29 in the UK singles charts on 12 August 1980.[2] Ultravox consequently appeared as the opening act on Top of the Pops on 14 August for a mimed performance of the song, although this did little to favour the single's success as it dropped one place the week after, returning to no.29 the week after that, spening a total of seven weeks in the Top 40. The parent album Vienna was, at the same time, in the UK Top 20 album charts (although would go on to have greater success in 1981 after the release of the title track as a single).[3]
Single release
7" single - Chrysalis CHS 2441 (clear vinyl and black vinyl)
A. Sleepwalk (3:12)
B. Waiting (3:55)
Both tracks are accredited to the four band members Currie/Cross/Cann/Ure
Legacy
Although Sleepwalk gained only modest success at the time, it remains one of the group's best known tracks and a staple of the 'new romantic' and 'electro-pop' genres and led the way for many other songs in the eighties which combined synthesisers with the more traditional drums and electric guitars.
The track is included on all of the group's hits/best of compilation albums.
Waiting first appeared on CD on Rare1 (1993).[4]
Versions
standard 7" and album version (no extended version recorded). Remastered version on Vienna remastered and definitive edition (2008)
live, available on BBC Radio 1 Live In Concert (recorded 14 January 1981 at the Paris Theatre, London - first broadcast 31 January 1981, repeated 15 August 1981. Official release, 1992[5])
live, available on Return To Eden (2010, 2017).[6]
'early version' available on Vienna remastered and definitive edition (2008).[7]
'Recorded live in Rehearsals at the Lyceum, 17 Aug 1980' available on Vienna remastered and definitive edition (2008) and bonus 7" single, issued with Vienna (180gr LP, 2014).[8]
Midge Ure has also performed the song live.
Media
| | |
| --- | --- |
| Ultravox - Sleepwalk (Official Music Video) | Ultravox - Sleepwalk - TOTP 1980 -HD- |
| 2008 Remaster) | |
Scrapbook
External links
Community content is available under
CC-BY-SA
unless otherwise noted.