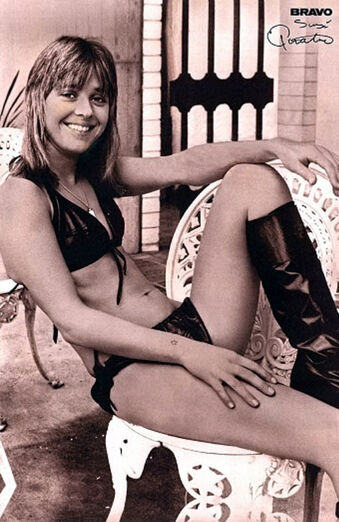 Suzi Quatro (b.03 June 1950) is a European-based American rock singer-songwriter, bass guitarist, and actress. She first achieved pop culture success in the UK, and in other European countries, with her single Can The Can which went to no.1 in June 1973. A string of hits followed, all penned by the Chinn/Chapman partnership, until 1978 and she had her final Top 20 hit in November 1979.
Quatro released her eponymous debut album in 1973 and since then has released fifteen studio albums, ten compilation albums, and one live album. She continues to perform live, worldwide. Her most recent studio album was released in 2019.
As an actress she has appeared in the popular American TV series Happy Days.
TV appearances
Top of the Pops
11 May 1973

- Can the Can (new)
25 May 1973 - Can the Can (5)

01 June 1973

- Can the Can (2)

15 June 1973

- Can the Can (1, replaced Wizzard - See My Baby Jive)

20 July 1973

- 48 Crash (new)

27 July 1973

- 48 Crash (28)

03 August 1973

- 48 Crash (6)

10 August 1973

- 48 Crash (4)

01 November 1973

- Daytona Demon (28)
08 November 1973 - Daytona Demon (22)
24 January 1974 - Devil Gate Drive (new)
07 February 1974 - Devil Gate Drive (14)
21 February,

28 February 1974

Devil Gate Drive (1 - replaced Mud - Tiger Feet)

31 October 1974

- The Wild One (new)

14 November 1974

- The Wild One (18)
28 November 1974 - The Wild One (7)

30 January 1975

- Your Mama Won't Like Me (new - only made it no.31, lowest pos. to date)

14 August 1975

- I May Be Too Young (new - did not chart)

17 February 1977

- Tear Me Apart (new)

17 March 1977

- Tear Me Apart (30)
19 May 1977 - Roxy Roller (new - failed to chart)
16 March 1978 - If You Can't Give Me Love (42)

30 March 1978

- If You Can't Give Me Love (10 - Kate Bush at no.1 with Wuthering Heights)
13 April 1978 - If You Can't Give Me Love (4)
Other TV
Scrapbook
External links