Tesla Girls is the title of a song written, recorded and released by British band OMD. The song features on their 1984 album Junk Culture and was also released as a single. The song title takes its name from electrical and mechanical engineer Nikola Tesla (1856-1943), a pioneer in the development of electrical alternating current, electric motors and the foundation of modern electrical appliances. The song's lyrics therefore deal with the subject of young modern women who use everyday electrical goods thanks to Tesla.
History
OMD originally developed the song during sessions immediately after their Dazzle Ships album in 1983, which had been a commercial disaster for the band (see demo version below). Tesla Girls was performed live during the brief tour OMD undertook in September 1983 to showcase new material in order to restore faith among their fans. It was considered one of the stronger and catchier tracks and was in fact played twice at some concerts.
The track eventually appeared on the Junk Culture album in Spring 1984 although was only released as the third single from the album after Locomotion and Talking Loud and Clear, some months after the album release. Tesla Girls was followed by a fourth Junk Culture album track single release, Never Turn Away.
For the US release of Junk Culture, Tesla Girls was moved from Side one track 2, to track 1, the album opener, replacing the instrumental title track which was moved to track 3 on side one.
Versions
Aside from demo and (unofficial) live recordings, many versions of the song exist.
demo version - an early version form the Highland Studios, Inverness sessions. Available on Junk Culture deluxe version (2015)
early live version - from September 1983 concerts (bootleg only)
original album version - duration 3:51. Available on Junk Culture LP, cassette and CD (1984 issues)
7" version - duration 3:26. Edit of above album version. Available on 7" single Virgin VS 705 (1984)
12" version - duration 4:25. original extended version. Available on 12" single VS 705-12 (1984) and Junk Culture deluxe version (2015)
12" 'extra remix' - duration 3:37. Available on 'limited edition' 4-track re-issue of 12" single (see below) and 4-track cassette
Specially Remixed Version - duration 5:03. Available on US 12" single (1984) which also includes 'instrumental version' and 'video version'
'Compilation version' - duration 3.34. Originally appeared on The Best Of OMD compilation (1988). Slightly longer than the original 7″ release, but shorter than the original Junk Culture album version. Also appears on some various artists compilation albums.
'extended mix'/instrumental mix - duration 4:44. Instrumental version from the US 12" which also appeared on the Blank & Jones 'So80s presents OMD' remix compilation album (2011).
Junk Culture Deluxe re-issue version (2015) - duration 3.36. Replaces the original album track, possibly included by mistake.
Single release
Tesla Girls was released as a single in the UK on 28 August 1984 as the follow-up to Talking Loud and Clear. It reached a peak position of 21 on its second week in the Top 40, and after the band appeared on TOTP on 13 September 1984 to perform the song.
B-side
The UK 7" version featured a live recording of the Dazzle Ships track Telegraph recorded at the Hammersmith Odeon, London (date not stated on release).
The 12" and cassette releases feature the above track and a brand new song Garden City. The track remained exclusive to this release before being included on the Navigation: the OMD B-sides album and the Junk Culture deluxe version (2015). The song lyrics contain the expletive "fuck".
Cover and artwork
The cover design, featuring a close-up photo of a woman's lips through a bundle of electrical wires, is attributed to 'P / S / A', (Peter Savile Associates) with photography by Trevor Key.
Promo video
The promo video for Tesla Girls was directed by Simon Milne. On the subject of the video Andy McCluskey has commented, "It got close to what we wanted but I guess in those days it could have been done cooler, but we didn't know how to do it and those were the days of somewhat clumsy storyline videos". [1]

Orchestral Manoeuvres In The Dark - Tesla Girls
Legacy
Although Tesla Girls was not a big hit at the time, the track remains one of the group's better known songs, firmly branded as 'eighties' in sound and style. As a song dealing in some way with science and technology (like previous singles Electricity, Telegraph, Genetic Engineering) it also reinforced the group's 'geek' reputation, which they had been so keen to shake off.
The song has been regularly played during the group's live performances since 1984, included in setlists up to 2017.[2]
Tesla Girls is included on all the group's compilation albums (although versions vary).
It was the first song to be presented by Bruno Brookes on his Top of the Pops debut in September 1984 (see video below).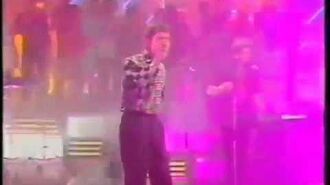 External links
Community content is available under
CC-BY-SA
unless otherwise noted.