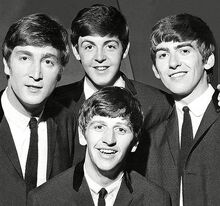 The Beatles were a British pop and rock group, founded in 1960 with members originating from the area of Liverpool, north-west England.
During their ten year history they became the biggest-selling group in recording history and a major influence worldwide in terms of music, style and popular culture.
Origins
Sixteen-year old John Lennon formed a skiffle group known as The Quarrymen in early 1957, later that year taking on board Paul McCartney whom he met after a performance at a local fete. Lennon originally rejected McCartney's friend George Harrison, also a guitarist, as too young to play in the band although was eventually allowed to join. the new three-piece called Johnny and the Moondogs began to play wherever they could find a drummer. A fourth member, Lennon's art college friend Stuart Sutcliffe, joined in January 1960 as bass guitar player. Sutcliffe suggested the group name of 'The Beatols' which later became the Silver Beatles and then, by mid-August, The Beatles. The group then recruited drummer Pete Best and the five-piece left England to begin a club residency spot in Hamburg, West Germany.