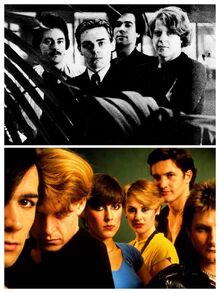 The Human League is a British musical group active from around 1977 to the present. The group is notable for its general policy of producing music using electronic instruments only and as such has become to be regarded as one of the pioneers of electronic pop music, also known as synth-pop or more recently as 'electronica',
The group has undergone many personnel changes over its forty year history, most notably when founding members Martyn Ware, Ian Craig Marsh, Philip Oakey and Adrian Wright split into two factions in September 1980 leaving Oakey and Wright with the group name, while Ware and Marsh went on to form the B.E.F. and new group Heaven 17. The Human League subsequently included two new musicians and songwriters Ian Burden and Jo Callis as well as the two teenagers Susanne Sulley and Joanne Catherall as vocalists, famously recruited by Oakey after seeing them dancing in a Sheffield disco.
After initial success in the early part of the eighties the group has since undergone mixed fortunes and further changes in the line-up. Their recording contract with Virgin was terminated after 1990 although the group enjoyed a successful comeback in 1993. Their latest album Credo was issued in 2011. In 2016 the group issued a career-spanning anthology entitled A Very British Synthesizer Group.
Early years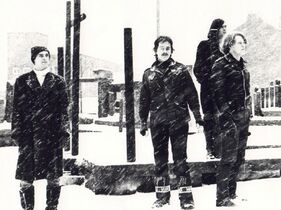 Friends Ian Craig Marsh and Martyn Ware began writing and recording experimental electronic music as
The Future
in their native Sheffield 1977, together with htird nmeber Ade Newton, later of Clock DVA. MArsh and Ware later took Philip Oakey on board as vocalist, and who had also written some interesting lyrics to their first single Being Boiled. Art student and photographer Adrian Wright was also recruited as slide projectionist for their live shows. The group issued a 'manifesto' of using electronic instruments such as synthesisers and drum machines only which they saw as the ultimate rebellion against traditional rock music. With musical influences such as
Kraftwerk
,
David Bowie
and
I Feel Love
the group started to record their own compositions as well as specialising in quirky cover versions of songs such as You've Lost That Loving Feeling, Perfect Day and Reach Out (I'll Be There). Their first single
Being Boiled
b/w Circus of Death was issued on Fast Product in 1978 and quickly became something of a cult success, while the group's idiosyncratic live performances gained critical acclaim. In August 1978 The Human League recorded their only session for
John Peel
and in early 1979 released an instrumental EP
The Dignity of Labour
, again on Fast Product, before being signed to Virgin.
Mark 1: 1979-1980
Such was the group's dedication to their purely electronic manifesto that when pressured by new label Virgin to release a single using 'conventional' instruments, the group released a disco style single entitled
I Don't Depend On You
(in 7" and 12" formats) featuring drums and bass guitar under the pseudonym of The Men, rather than as The Human League. The recording also featured two female backing vocalists.
Their first recorded output with Virgin records as The Human League came in October 1979 in the shape of the single Empire State Human b/w Introducing and its parent album Reproduction with its controversial sleeve design. The album reviews, and sales, were generally disappointing and the even the radio-friendly single failed to break the charts, while other Virgin contemporaries such as The Skids and XTC were beginning to have their first hits. As a results all but two dates of a scheduled tour were cancelled as was a support slot to Talking Heads, allegedly as a result of The Human League's unorthodox approach to live performance.
In early 1980 the group started working with a new producer, John Leckie, with whom they would issue a new EP Holiday '80, released in April 1980. The EP's lead track was a cover version of the glam-rock song Rock 'n' Roll (adapted from Gary Glitter's Rock 'n' Roll Pts. 1&2). A brand new recording of Being Boiled also featured on the EP as well as a version of the Iggy Pop/David Bowie song Nightclubbing. Although Holiday '80 was still in the lower reaches of the UK charts (no.72) the group were invited to perform Rock n Roll on Top of the Pops for the 08 May 1980 edition. The song proved a rousing show opener yet failed to make any impact on the record buying public and subsequently dropped down the charts again. The new album Travelogue, produced with Richard Manwaring, was quick to follow and at last gained the band some deserved, if short lived, commercial success entering the UK album charts at no.16 but remaining in the Top 40 for just two weeks. Virgin re-released early single Empire State Human once more (boosted with a free 7" with Travelogue tracks Only After Dark b/w Toyota City) as the group seemed to be finally breaking through to the mainstream (see Smash Hits 10 July 1980, NME 12 July 1980, The Face August 1980) although again only a modest no.62 position was achieved. Early single Being Boiled was also re-released in September almost as a last-dicth attempt to get a hit single. Writing in Smash Hits 18 September 1980 issue reviewer Mark Ellen described the single as "...a slab of ice that's only two steps ahead of a dirge. A re-issue, too." Shortly after the group split into two, allegedly due to musical differences leading to arguments (especially between Oakey and Ware), although Oakey would later claim that the split was 'engineered' by Bob Last, in the common interest of all members.
Mark 1 legacy
Despite their lack of commercial success the first 'version' of The Human League now stands as one of the most innovative groups in early electronica and electronic music recording and performance. Their live shows featuring just electronic instruments, some backing tapes and a lead vocalist (and critically no guitars and drums) boosted with visual projections of Adrian Wright's slides can be considered a primitive blueprint of a format many pop acts would eventually adopt towards the end of the twentieth century and beyond. Unsurprisingly it was David Bowie who after seeing them pay live in early 1979 remarked that he had seen the future of pop music and that "one day all pop music would be made this way". [1]
Significant dates 1978-1980
12 June 1978: The Human League play their first live gig at Sheffield Students Union Bar 2.
30 June 1978 (?): Being Boiled released on Fast Product label.
31 July 1978: first known play of Being Boiled on national radio by John Peel.[2]
08 August 1978: Peel session recorded at Maida Vale.
12 August 1978: feature in Sounds music weekly. [3] [4]
16 August 1978: Peel session broadcast
 ?? August 1978: TV performance of Being Boiled for Granada TV's What's On.
02 February 1979: 'Mini tour' begins at The Factory, Manchester.
15 February 1979: live date at Nashville Rooms, London attended by David Bowie.
31 March 1979: NME cover and feature, 'Synthesisers in the Snow'.
15 May 1979: European tour with Iggy Pop
06 November 1979: TV performance on BBC's Mainstream. Songs performed: The Path of Least Resistance & Empire State Human.
 ?? April 1979: The Dignity of Labour EP released by Fast Product although the group had already signed a deal with Virgin.

08 May 1980: first Top of the Pops appearance. The show also saw the debut of fellow-electronic artists Orchestral Manoeuvres in the Dark with their singel Messages. Irish group The Undertones also performed their single My Perfect Cousin which carries the lines: "His mum bought him a synthesiser, she got The Human League in to advise her").
10 July 1980: Smash Hits feature "Very Ordinary People with Very Odd Tastes" and full page colour poster.
12 July 1980: NME cover and feature 'The League Strikes Back'.
August 1980: 6 page feature in fashion and music magazine 'The Face' entitled 'The Plain Person's Guide to The Human League'.
13 November 1980: Smash Hits reports that the Human League have split. [5] The split actually took place sometime in October.
Community content is available under
CC-BY-SA
unless otherwise noted.