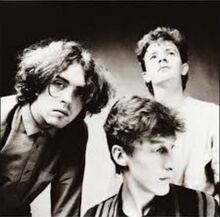 The Icicle Works were a post-punk band from Liverpool, UK originally formed in 1980. The group underwent various personnel changes throughout the eighties, all centred mainly around founder member Ian McNabb.
Chamoioned to some extent by John Peel (for whose show they recorded three sessions) in 1982 and 1983, the group had a Top 20 hit with Love Is A Wonderful Colour in early 1984 followed by their Top 30 eponymous debut album. Successive single and album releases failed to match these successes however.
The group effectively dissolved in 1990 after being dropped by the Epic label. While McNabb has continued to release and perform solo material, The Icicle Works as a group has also occasionally played live as the original albums have been re-issued.
Charts
Top 40 only
TV
info mostly via tvpopdiaries.co.uk Links to video footage, where available.
Other
Radio
all BBC Radio 1 unless otherwise stated
Other
Scrapbook
External links
Community content is available under
CC-BY-SA
unless otherwise noted.